Irina Kavchik
Latest product news – January 2023
Happy New Year from the Ocerra team!
We haven't been posting for a while as we have been working on improving and enhancing the system security, performance and data extraction. These are the key areas of Ocerra that we are working on continuously, along with supporting and maintaining our accounting and ERP integrations.
In this product update, you will find the most popular features and enhancements that we have been asked to add to Ocerra.
View documents in the original PDF resolution.
A quick PDF Viewer has been added to the Invoice. This allows you to easily view the original PDF within Ocerra. This helps to accurately review and approve invoices without the need to download or open them in a separate PDF viewer.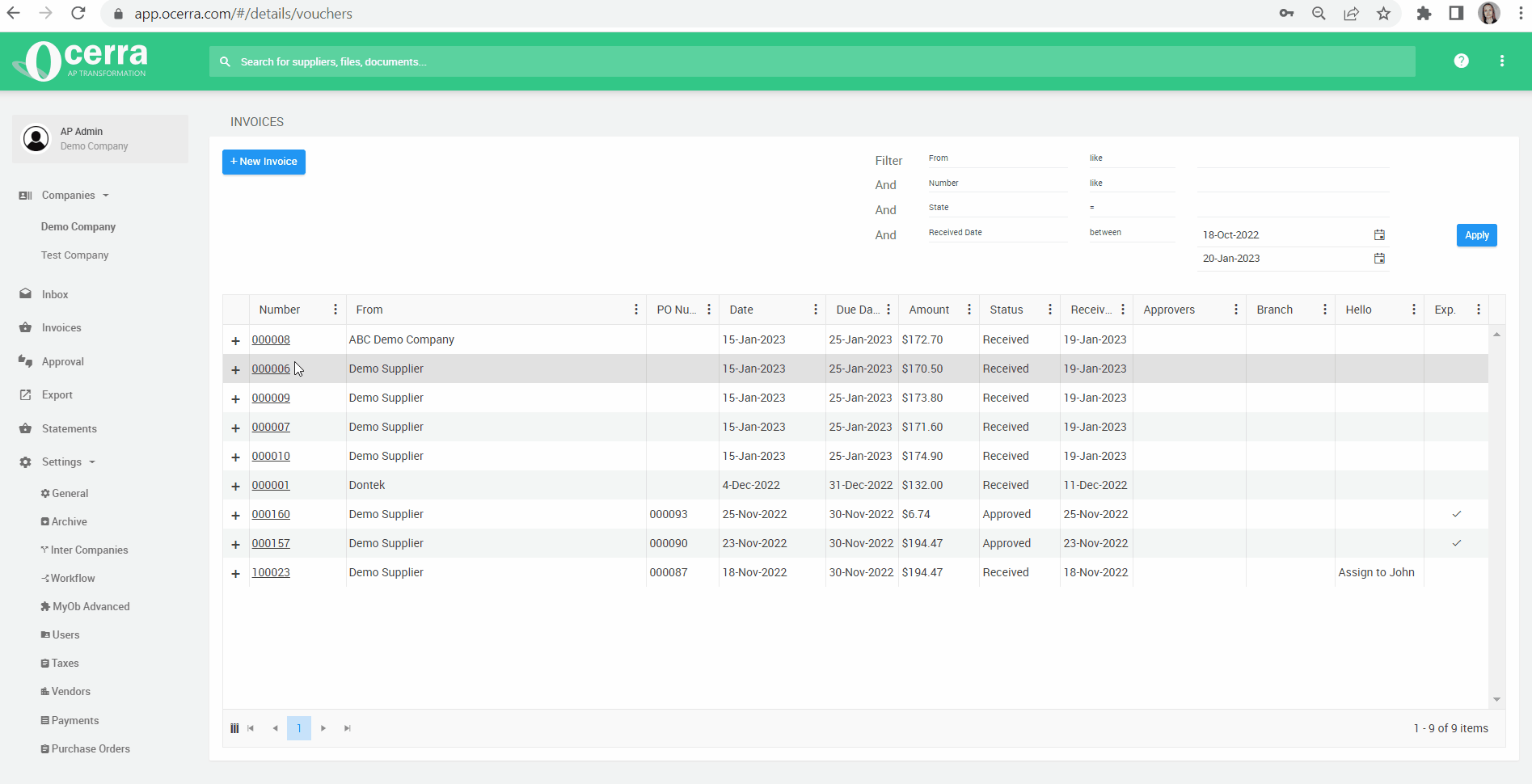 Why PDF viewer?
Ocerra converts the PDF copy of the invoice into an image to make it interactive for data extraction and annotation. But when you work with the image, you need to zoom in/out, which also is an option that helps you review invoices in detail. The fun part is that we made it similar to a Google Maps experience.
Auto-detecting & finding the same purchase order (PO) numbers.
One PO number can be used multiple times; it can be a standing PO or a duplicate PO. To enhance the visibility of the accounts payable process, the PO number that has been used more than once on the invoice will be highlighted:
Please note that this works only for invoices sitting in the Invoices list.
Tip: Use search to find a PO number:
Exporting approval/audit log has been added to MYOB AccountRight.
Keeping track of all your approval log is easier when it is exported to your system.
The approval log is exported as an image to MYOB as it does not accept .txt files.
Navigate to the AccountRight integration in Ocerra and enable Include Audit Log.
This functionality is also available for MYOB Advanced and Xero. It is exported as a .txt file, though.
Viewing approvers via Invoice list.
You can enable an "Approver" column on the Invoices list. If you are using an Assign Employee option in the approval workflow, you can now easily see the name(s) of assigned approvers for the invoice.
Here's how to enable it: adjusting the invoices list.
Approval limits.
The approval workflow allows setting up a limit on the transition; however, in some cases, it might be easier to set up a limit for a specific person.
Please check this article for more information.
Approval set up services.
At Ocerra, an approval module is included with every subscription, as well as unlimited user setup at no extra cost. However, to suit various approval processes, the approval workflow is highly configurable and requires proper setup and training. At Ocerra, we are offering this as a paid service.
If you are thinking about using an approval workflow, please get in touch. We'll discuss your unique requirements and suggest the best workflow setup. We can also provide training on approval configuration, as well as training for your approval team.